A day in the life of a recruit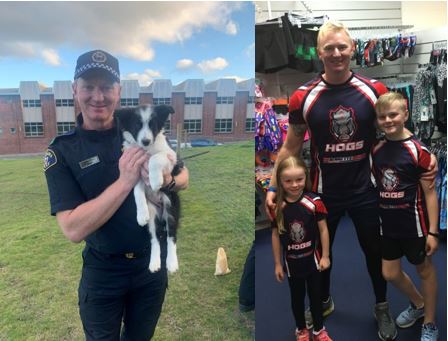 We are just about to finish week four of our 31 week recruit course at the Tasmania Police Academy in Rokeby. The first four weeks have gone very quickly, with a hectic schedule and lots to learn. We have a great group of 22 people, with 11 men and 11 women from all around Tassie as well as interstate. It's a very diverse group, with lots of differing life experiences and (so far!) we are all getting on well.
For me, the journey to becoming a Tasmania Police recruit started over the 2019 Christmas period. I saw a recruiting promotion on Facebook, so I expressed an interest and began the application process.
I had just turned 40 and spent the previous 2 years working in the Department of Police, Fire and Emergency Management (DPFEM) helping to build a Wellbeing Program for Emergency Services workers in Tasmania. During my time in the Wellbeing role I worked with and met many police officers. It was a great place to work and I was particularly impressed with the culture and leadership throughout Tasmania Police.
Being a DPFEM employee also qualified me for the Australian Police Football Carnival in October 2018. The comradery amongst the 'Tassie Devils' as well as police officers from all over Australia was very strong. This was probably the first inkling I had that I too would one day like to be part of the police family.
Having returned to WorkSafe Tasmania last November, I was looking for a fresh challenge. In February, I was invited to a fitness day and then progressed through to interview stage which was held late March. In early April I received an offer for the May course. It all happened really quickly and was a very thorough process. We had lots to think about as a family as it was a big decision to make.
There were lots of discussions on the home front as this was a massive decision and life as we all knew it as a family would change dramatically. It is a huge sacrifice for families to have us away as a full-time recruit for 31 weeks. I stay at the Police Academy two to three nights a week, and other nights travel home to ensure a healthy life, work and family balance.
On a Friday I am sometimes able to finish in time to collect my daughter from school, so that's always a nice way to end the week. Monday and Wednesday evenings, I collect my son from the gym on the way home. The course directors have been super supportive and very understanding when it comes to those juggling family commitments. I'm very grateful for the support that I get from my wife Maria as I embark on this exciting new career.
Life at the Academy has been a great experience so far. A recruit's day starts with morning fitness training. 'Early' training is a 5:40am start and 'Late' training is a 6:20am start. Training is a great way to start the day with a mix of strength, running, core stability, boxing and team challenges. My highlight was a beach run at Bellerive, with dogs invited, so Chloe the Collie and Baxter the Bulldog joined me.
The first four weeks have included lots of team building activities, an introduction to operation skills, classroom learning, drill marching and various field trips. The emphasis on team I am really enjoying, having previously played team sport.
Tasmania Police has a partnership with the University of Tasmania and we are very lucky to have the best of both worlds with a combination of experienced police officers delivering modules and as well as UTas staff. After 31 weeks at the Academy we will all be a bit over halfway to completing a degree in Sociology – Police Studies. It's a partnership that many other jurisdictions are envious of.
Soon we are all off to do a week of 'Observation Shifts'. Posted at various stations all over Tasmania to give us some hands-on experience in policing, and learning from experienced officers seeing how they go about their daily work.
Overall it has been a challenging but enjoyable start to life as a Trainee Constable. There are many more challenges to come and as each week goes on, I am feeling more and more comfortable in the fact that this has been a great decision. I am really looking forward to the next 27 weeks and continuing to learn more about what it takes to be a Tasmania Police officer.
If you are considering the change, no matter what stage you are at in life, I would say do it, you will not be disappointed. The team down here at the Academy are outstanding, as Recruits we really value this opportunity and all the support that everyone down here provides.
Lastly but certainly not least… The hospitality crew are awesome, super friendly and so helpful. We get looked after so well. The morning fitness training is definitely required to balance out the scrumptious menu!