School based program
Work Experience
Tasmania Police is unable to facilitate work experience students.
Career Development Program (Year 12 Students)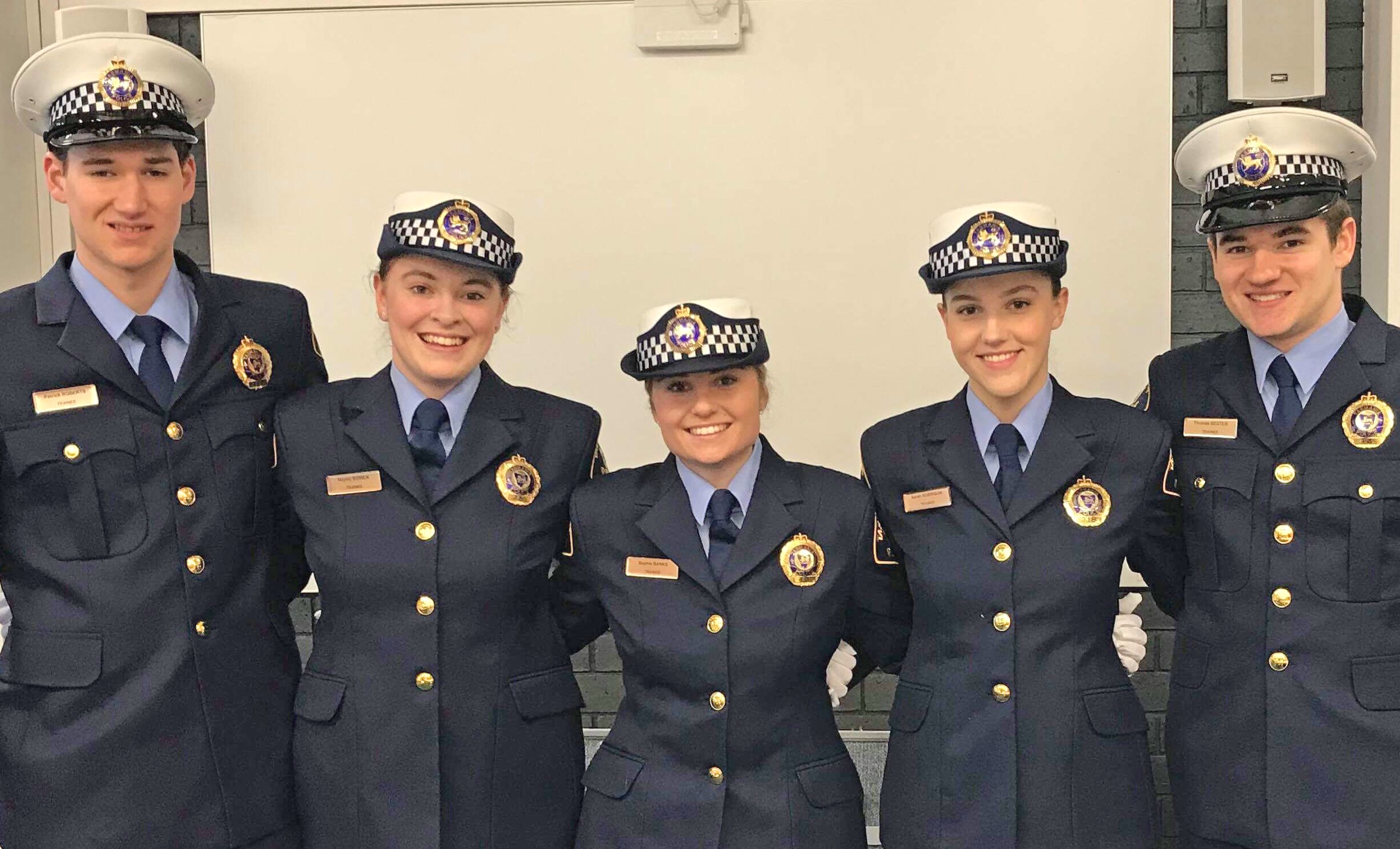 [Pictured: Constables Patrick Roberts, Hayley Bowen, Sophie Banks, Sarah Robinson and Tom Bester from Police Recruit Course 1/2018. Prior to applying to become members of Tasmania Police they completed the Career Development Program whilst studying year 12] 
Applications are now closed for the 2020 program and nominated students have been selected. It is anticipated that another two programs will be conducted in 2021 and Recruiting Services will contact schools/colleges at an appropriate time for nomination of interested students.
The 2021 courses will again be for Grade 12 students, it should be noted that this is not a camp style program. You are required and expected to pass all components of the program to be considered for progression to the interview stage.
The CDP is a program aimed at Year 12 students from around Tasmania who have a keen interest in becoming a Police Officer. It is a free, four-day program usually conducted in the July and September school holidays, during which students will live at the Tasmania Police Academy, Rokeby, and experience first-hand what police recruit training involves.
As a part of this program students will undertake the Tasmania Police fitness testing and written examinations. Those students who are successful in these will progress through to the next stage of the recruitment process and possible employment at the completion of their Year 12 studies.
Job Knowledge
Students are expected to have researched and have a good understanding of what it is that police do. This information can be obtained by researching the Tasmania Police website or speaking to local Police.
Becoming Involved
The CDP will be held during school holidays. Students will need to express interest through their school career advisors. As only 20 positions are available in this program, Tasmania Police Recruiting staff will conduct pre-course selection sessions which will be organised by appointment with the school.
Minimum Requirements
Licence
Students will need to have a current Australian Driver's Licence.  A provisional or  L2 licence is acceptable.  A manual or automatic driver's licence is permitted.
Physical Fitness
Students will need to have a good base-level fitness. It is expected that students will have looked at the minimum fitness requirements located on the Tasmania Police website and be able to achieve these levels at the time of testing.
Appearance
Tasmania Police has strict guidelines in relation to dress and appearance standards. It is expected that students participating in the CDP will exercise a high standard of personal grooming and take pride in their appearance.
Social Media
Tasmania Police will conduct thorough background checks on all students, including their social media profiles. Students are expected to have appropriate visual and written content in all of their social media platforms.
Life Experience
Tasmania Police needs to ensure that students have best prepared themselves for what is a challenging, and at times, dangerous job that often requires on-the-spot decision-making and effective communication with all community members. Some considerations are; casual employment, volunteer work/community service, interpersonal skills, personal qualities (e.g. trustworthiness, empathy, tolerance, responsibility) and conflict resolution skills.