The Career Development Program (CDP) is about giving young people a taste of policing and life at the Tasmania Police academy.
It's aimed at Year 12 students from around Tasmania who have a keen interest in becoming a police officer.
During the free, five-day program (usually conducted in the April, July and October school holidays) students stay at the Rokeby police academy and complete a range of training modules before undertaking fitness and job suitability testing, and a written exam.
Students who pass all components of the program may progress to the interview stage of our recruitment process, and if successful could become a Tasmania Police recruit once they finish school.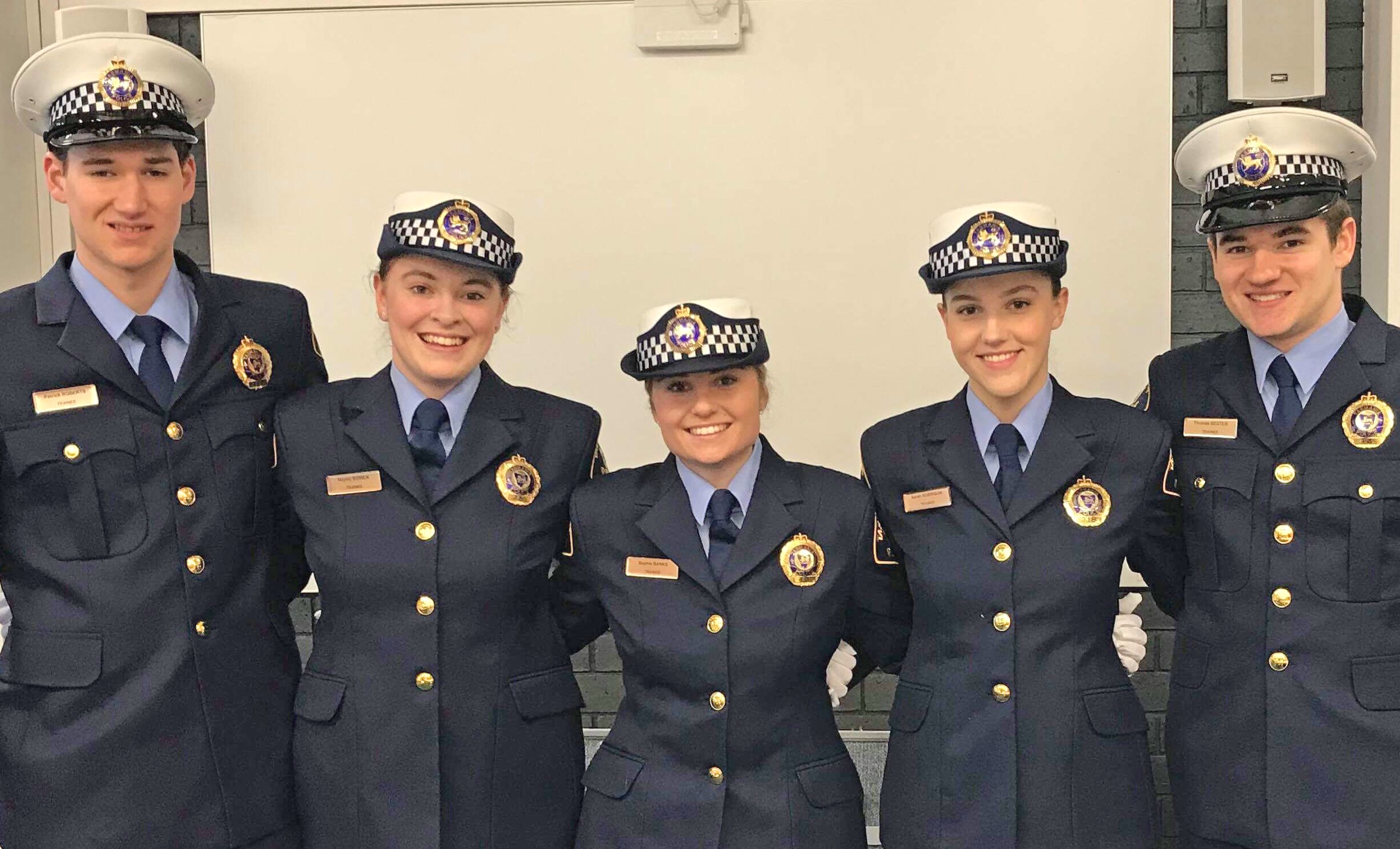 [Pictured: Constables Patrick Roberts, Hayley Bowen, Sophie Banks, Sarah Robinson and Tom Bester from Police Recruit Course 1/2018. Prior to applying to become members of Tasmania Police they completed the Career Development Program whilst studying year 12]
How can I sign up?
If you're interested in completing the CDP, you should speak to your school career advisor.
Applications usually open in October for the following year's courses.
There are 20 places available in each program, so Tasmania Police recruiting staff will conduct pre-course selection sessions which will be organised with schools directly.
To get a spot in the program, students will need to demonstrate a strong understanding of what it is that police do. Reviewing the Tasmania Police recruitment website is a great place to start.
If you're a school career advisor, please contact us for more information.
Eligibility
Licence
Participants will need to have a current Australian driver licence (manual or automatic). A provisional or L2 licence is permitted.
Physical fitness
Participants should review the Tasmania Police fitness requirements and be able to achieve these levels when they apply.
Appearance
Tasmania Police has strict dress and appearance standards. CDP participants are expected to adhere to an appropriate standard of workplace attire and appearance.
Social media
Tasmania Police will conduct thorough background checks on all CDP participants, including social media profiles. Participants must not have any inappropriate content on these platforms.
 Previous experience
We need to ensure that Tasmania Police recruits and CDP participants are well-suited to policing as it is a challenging job that often requires on-the-spot decision-making and effective communication with all community members.
Strong interpersonal and conflict resolution skills and qualities like trustworthiness, empathy, tolerance, and responsibility are important.
Previous life experience that can be beneficial includes casual employment and volunteer or community service work.